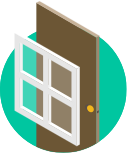 Windows & Doors
Enjoy the elements, while being protected from them. Proper windows and doors add aesthetics and practicality, while lowering your energy costs.
You can expect in-person consultations for new installations and upgrades. Just replacing a door or a couple windows? We'll set up a time for you to talk to an expert over the phone. Take advantage of face time with your prospective expert. Meeting your expert in person and establishing a relationship of trust will make the project smoother for everyone.
Select a service to start booking your free consultation.